INNOVATIVE
LAB FOR
RESPONSIVE
CARE
A GLYCO-HUMANIZED ANTIBODY PLATFORM WITH EMBEDDED TECHNOLOGY THAT RENOVATES IMMUNOLOGICAL TREATMENTS
XENOTHERA is addressing unmet medical needs with proprietary Glyco-Humanized Antibodies:
Genetic engineering of the bioproduction Immunogen strategy and optimization Enhanced therapeutic efficiency of GH-pAb mix Pharmaceutical development done and stability data for more than 3 years Translational development program experience
Immunology
Solid organ transplantation
Viral infections
Multi-Drug Resistant Bacteria
Oncology
Others
Chief Executive Officer M.D., Ph. D., co-founder of the company, formerly consultant in strategy
Chief Scientific Officer
Ph. D., immunologist, Research Director at CNRS and INSERM, co-founder and ex-COO of Effimune and Ose Immuno
Chief Medical Officer M.D, MBA former Medical Affairs Director in pharmaceutical companies
An agile company with a fast-paced development
XENOTHERA is a clinical stage biotech at the top of innovation, which creates new therapeutic modes in numerous domains. Our patented technological platform is built on a double expertise of immunology and genetic engineering. We develop innovative  approaches in immunotherapy by marketing Glyco-Humanized Polyclonal Antibodies (GH-pAb). Our antibodies are engineered to display high therapeutic properties. XENOTHERA's platform ensures short-time development thanks to our mastery of the entire process, from animal genetics, choice of the immunogen, selection and purification of antibodies, and access to market authorization in accelerated timescale. Within less than 8 years, XENOTHERA has brought to clinic LIS1, a novel induction treatment in Solid Organ Transplantation, addressing a $1Bn market. and XAV19, its anti-COVID treatment for patients with moderate disease. It has also established in vivo Proof-of-Concept in Immuno-Oncology and Multi-Drug Resistant infections.
LIS1
Phase I/II
Completion
XAV19 CTA
Phase II
Phase II/III
LIS1 CTA
Phase I/II
XAB05 & XON POC in vivo
LIS1
Preclinical package
Series A
Pipeline
Products in development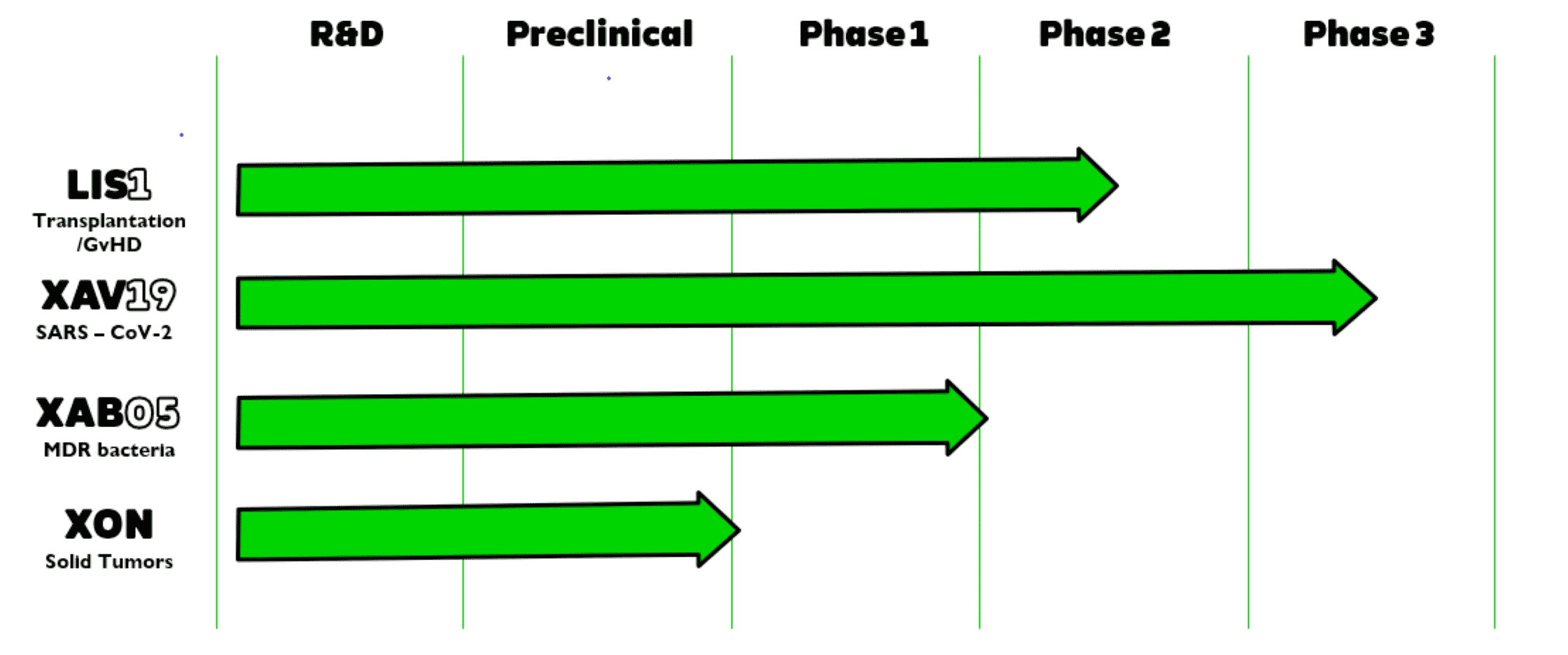 July 11th, 2022. # Download our press information (english version) # Télécharger...
More
XENOTHERA's
worldwide
network
XENOTHERA is built on a worldwide network of scientific & medical collaboration.
XENOTHERA is a start-up in biotechnology, specialized in immunology, transplantation,
infectious diseases and oncology.
Investors already trusted us since creation by funding the company more than 30M€,
completed with 15M€ non-dilutive financing. Our products will offer a substantial patient benefit
and address unsolved major public health issues
To contact us, use the form or see our full contact below:
XENOTHERA
21 rue La Nouë Bras de Fer – 44200 Nantes – France
To work with us: careers@xenothera.com
Press Contact: IZsoGOOD – Ingrid Zémor – xenothera@izsogood.co